Sometimes, despite hitting the gym regularly and religiously following a healthy diet, some fat pockets just won't budge. 
Luckily, there is a myriad of body contouring procedures that can remove the excess fat from different areas of your body. 
Read on to know more about some of the best ones available -and which one suits your unique concerns and goals best.
1. Morpheus8 Body
The Morpheus 8 Body treatment is a minimally invasive body contouring procedure that uses a combination of radiofrequency waves and microneedling. The primary role of RF waves is to heat and melt the stubborn fat cells deposited just under the skin, while microneedling stimulates collagen production in the treated area. 
The breakthrough combination of these two technologies penetrates deeper into the treated area, not only to break down the fat cells but also to tighten the skin. Morpheus 8 Body can address skin laxity, which sometimes accompanies significant fat or weight loss, by stimulating the natural healing process to boost collagen production, thus setting it apart from other body contouring procedures. 
Morpheus8 Body can be used on larger areas of your body (such as buttocks, thighs, or abdomen) to :
Remodel and breakdown the stubborn fat deposits 

Reduce the appearance of cellulite

Firm up mildly sagging skin

Enhance the overall skin texture and appearance
2. VASER® Lipo
VASER® Lipo is a quick, minimally invasive procedure that breaks down stubborn fat and removes it from the body via suction:
High energy, ultrasonic vibrations break down in the treated area, leaving the surrounding tissue intact.

The broken-down fat cells are then gently sucked out of the body via a cannula.
This treatment can remove excess fat and help sculpt different parts of your body, such as the buttocks, thighs, abdomen, flanks, calves, and even the submental area (under the chin).
Unlike traditional liposuction procedures, Vaser®Lipo is a less invasive approach and doesn't affect the surrounding tissues. Thus, the corresponding downtime and the usual side effects, such as bruising and swelling, are also significantly less.
Furthermore, it destroys unwanted fat cells permanently. VASER® Lipo's results are permanent so long as you maintain a healthy weight.
3. BodyTite™ Liposuction
BodyTite™ Liposuction combines radiofrequency (RF) waves and liposuction via radio-frequency assisted liposuction (RFAL). RF waves melt and break down fat pockets, making it easier for them to be sucked out through a tiny incision.
The RF waves also tighten and firm up the skin by stimulating its natural collagen production, thus addressing the skin laxity that can sometimes accompany significant fat loss, especially in treated areas like the abdomen, thighs, buttocks, knees, or back.
Which Treatment is Right For You?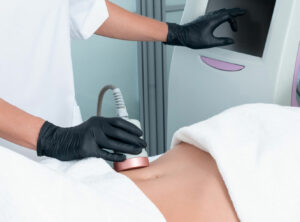 To make it clear, body contouring procedures should not be used as an alternative to weight loss procedures. They are ideal for those candidates who have already achieved their ideal weight (or are just a few pounds away) and just want to get rid of stubborn fat deposits that don't respond to diet and exercise.
Here are some other questions to help you narrow your options down further:
1. Do You Need A Surgical Or Non-Surgical Body Contouring Procedure?
If you're looking for a quick procedure to get rid of a few stubborn fat pockets without having to go under the knife, the Morpheus8 Body treatment might be ideal for you. However, if your goal is to achieve more drastic results in a short period of time (and are willing to undergo a slightly more invasive treatment), surgical body contouring procedures such as VASER®Lipo and BodyTite™ Liposuction might be a good fit for you.

Although both procedures use different technologies to break down the fat cells, the RF waves used in BodyTite™ also address the mild to moderate skin laxity, so you can opt for this treatment if sagging skin is also a concern. 
2. How Much Downtime And Recovery Time Can You Set Aside?
VASER®Lipo and BodyTite™ Liposuction are both surgical procedures (though not as invasive as traditional liposuction) and may require a bit more downtime and recovery time compared to completely non-surgical body contouring treatments like Morpheus 8 Body.
3. What Are Your Area/s Of Concern?
The choice of a good body contouring procedure also depends on the area you're looking to treat. The Morpheus8 Body, VASER®Lipo, and BodyTite™ can all be used to target larger areas on your body (such as buttocks, thighs, back, or abdomen). 
Still, before making up your mind, it's always best to consult an expert to determine the right treatment type and plan for you.
Lastly, please bear in mind that determining the best body contouring procedure for you should always be done under the guidance of a certified and well-trained provider. At Robert Andrews Laser and Medical Aesthetics, you can rest assured that our team of board-certified experts in Colorado Springs, CO are well-equipped to provide you with a world-class body contouring experience.
Schedule an appointment today!