With age comes fine lines and wrinkles, sagging skin, and loss of volume. This happens mainly due to the diminishing production of collagen – a natural protein that adds volume, strength and elasticity to your skin – as we age. 
Luckily, if you're 18 or older, injectables like dermal fillers and wrinkle relaxers can reduce the appearance of these signs, as well as delay their occurrence.
Read on to know more about how different injectables work and how they can best help you at a certain age.
Dermal Fillers
Dermal fillers, also called soft tissue fillers, are injected into the skin to add or restore volume and to smooth static creases and wrinkles. 

Early on (i.e., in your 20's and early 30's), they can be used to reduce the appearance of acne scars and plump up lips. However, they are more commonly used in late 30s to 40s to treat and prevent deep static wrinkles – ones that are visible even when your facial muscles are at rest – and to restore lost volume. 
Some of the commonly used fillers include:
 Radiesse®
Radiesse® is a filler treatment that addresses volume loss and smooths deep folds. It's used mainly for moderate to severe facial wrinkles and folds such as smile lines (also known as nasolabial folds) and marionette lines, which tend to become prominent in your 40's.

Sometimes, the fine lines and creases can start to become more prominent as early as late 30's due to collagen loss. Therefore, getting Radiesse® during your late 30's to early 40's can prevent these lines from becoming more pronounced.
Restylane®
This hyaluronic acid (HA) filler adds volume to lips, helps contour cheeks, smooths static wrinkles, and fills in acne scars.

In your 20's, it can be used to fill in acne scars and plump up lips.

In your 30's and 40's, it can be used to plump and smooth static wrinkles.
Bellafill®
Bellafill® is a dermal filler that stimulates the skin's natural collagen production.

It can provide a plumping effect for up to 5 years, which is the longest for any temporary fillers currently available on the market.

Bellafill

®

can be used to improve the appearance of acne scars, which can be useful for patients in their 20's.

Patients in their 30's or 40's also find this type of filler beneficial for smoothing smile lines or nasolabial folds. 
Neurotoxins Or Wrinkle Relaxers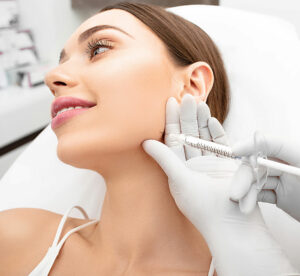 Neurotoxins such as Botox®, Xeomin®, and Dysport® (brand names for Botulinum toxin) smooth out fine lines and wrinkles by temporarily paralyzing or relaxing the underlying facial muscles.

In your 20's, they can delay the formation of mild to moderate dynamic wrinkles such as crow's feet, frown lines and forehead lines. As you enter your 30's and 40's, they can reduce the appearance of moderate to severe dynamic wrinkles, which may start to appear or deepen around these ages. 
Here's what different neurotoxin can do for your skin at different ages. 
Botox®:
You can start getting Botox® in your 20's (or early 30's) to prevent lines and wrinkles from forming. This is sometimes called preventative Botox® and some patients with particularly strong facial muscles or expressions can start getting it as early as 25.

Once you hit your late 30s or early 40s, Botox® can treat the dynamic wrinkles such as crow's feet or frown lines that tend to become more visible due to diminishing collagen production.
Dysport®:
Dysport® is often used to treat moderate to severe crow's feet and frown lines, which can start showing up as early as your mid-20's in some patients.

Frown lines or glabellar lines tend to deepen in your 40's, making Dysport® suitable for this age group as well.
Xeomin®:
Xeomin® can be used to manage moderate to severe facial wrinkles and creases in your mid to late 30's.

As with Dysport®, it can also be used to treat deep glabellar lines or forehead lines for patients in their 40's. 
Aging is inevitable, but with the right injections and filler treatments, you don't have to look it. 
At Robert Andrews Laser and Medical aesthetics, our certified and experienced injectors are well-equipped to provide you with beautiful, natural-looking results at any age in Colorado Springs. 
Give us a call to book your appointment!