Almost all the visible signs of aging on your face can be traced back to the diminishing production of collagen and elastin – major structural proteins in your body. These include the loss of elasticity, dullness and sagging skin. 
Unfortunately, sagging skin doesn't respond particularly well to exercises, diets, or topical anti-aging products. And even if it did, it would take years before you can see any visible improvement.  
Luckily, there are plenty of options for non-surgical skin tightening treatments! These can address skin laxity or sagging without downtime or surgery.

Let's take a look: 
Finding The Right Skin Tightening Treatment For You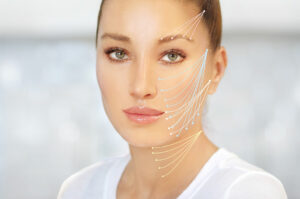 There are different types of treatment options that can help firm up loose skin and determining which one is best for you depends on:
The area that you want to treat (such as the face, neck, abdomen, or thighs)

The degree of skin laxity (how loose the skin is)



Some common treatment options include: microneedling, radiofrequency (RF) microneedling, and a PDO thread lift. 
Our experts at Robert Andrews, however, have helped countless patients get amazing results with the following skin tightening treatments:

1. Eclipse Micropen®
Eclipse Micropen® incorporates the principle of microneedling for rejuvenating the texture, color, and tone of your skin.

It stimulates the body's natural collagen production to lift and firm sagging skin.

It can help target mild to moderate skin laxity as it targets the superficial layers of the skin. 

It is safe for almost all skin types and produces natural-looking results.  

The procedure itself is minimally invasive, painless, and requires no downtime.
2. Morpheus8 (Radiofrequency Microneedling)
Morpheus8 is a minimally invasive skin tightening treatment that enhances the benefits of microneedling up a notch by combining it with radiofrequency waves.

Microneedling promotes the natural healing process of the skin through micro-punctures while RF heat waves promote collagen production as they penetrate deeper into the skin. 

Firms up sagging skin and helps even out skin texture and tone.

It is safe for almost all skin types and can be used on the face, as well as your entire body.

The procedure itself is minimally invasive and requires no downtime.
3. PDO Thread Lift
A Polydioxanone or PDO thread lift is a non-surgical alternative to a traditional facelift. 

This procedure uses dissolvable threads to give the skin an instant lift that improves over time.

The sutures dissolve over time to boost the collagen production, thus making the skin look and feel firmer and smoother every day for months.  

Different types of threads (e.g., smooth or barbed threads) can be used in this treatment to address the issues of fine lines and wrinkles, drooping brows, sunken cheeks, under eye hollows, and sagging jaw lines or jowls. 

The procedure is safe, effective, and requires no downtime. It's sometimes called the "lunchtime lift" because it can be done in as little as one hour – and patients are able to drive themselves afterwards.
At Robert Andrews, we offer a versatile range of treatments to tighten and firm up your sagging skin. Schedule an appointment now to know more about the right option for your unique skin concerns!