Our bodies can heal themselves after an injury, but they lose this natural healing ability with age, causing certain signs of aging to appear on your face such as fine lines and wrinkles, uneven skin tone and texture, dullness, and sagging skin. 
You might've come across a lot of treatment options that claim to address such skin concerns but they can take ages to produce any significant effects (if any). Luckily, PRP therapy can offer a deeper skin rejuvenating solution for all your skin concerns. 
Read on to learn what PRP is and how it can help you.
What Is a PRP Facial Treatment?
PRP or Platelet-Rich Plasma therapy is a non-surgical and innovative stem cell-based treatment that can heal, repair, and rejuvenate your skin cells and tissues at a cellular level. It is also known as the "Vampire Facial" as the stem cells and plasma are extracted from your own blood. 
The treatment simulates the wound healing properties of your skin to reverse signs of aging, repair skin damage, and rejuvenate your skin naturally. 
Which Skin Concerns Can Be Addressed With a Stem Cell-Based PRP Facial?
Besides delaying the aging process, the PRP Facial – a regenerative medicine therapy – enables your skin cells and tissues to regenerate and renew themselves rather quickly.  The following are just some of the benefits that it offers:
It can soften the look of fine lines and wrinkles. 

It can stimulate collagen production from within, thus making skin firmer and tighter. 

It can help even out the skin texture so that your skin feels smoother and softer. 

It can help even out your skin tone by reducing the appearance of sun spots, age spots, blemishes, and pigmentation. 

It can reduce the appearance of acne scars. 
How Is the PRP Treatment Performed?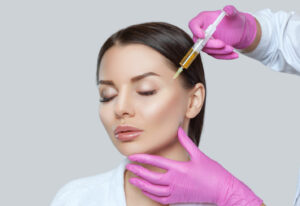 It is a safe and minimally invasive procedure that is completed in two steps. 
First, a sample of your blood is drawn. It is then put through a centrifuge to separate the plasma and platelets from other cells.
Next, the extracted PRP serum is then injected directly into the area/s of concern to trigger the natural healing process in the treated area.
What Sets the PRP Therapy Apart From Other Facial Rejuvenation Treatments?
PRP has gained a lot of popularity recently because:
The procedure is relatively quick and doesn't involve any downtime. You can go back to your daily routine right after. 

It's derived from your own blood, thus reducing the risk of any allergic reactions or rejections. 

It can be combined with other skin rejuvenating treatments such as microneedling to yield more dramatic results. 

It is safe and effective for all skin types. 
PRP is a type of regenerative medicine that can address existing skin concerns as well as prevent new ones by stimulating your body's natural healing abilities. Since the procedure involves a blood draw, it is important to choose a qualified and highly skilled provider to ensure maximum results safely. 
At Robert Andrews Laser and Medical Aesthetics, Colorado Springs, CO our highly skilled and well-trained team follows strict safety standards and performs every procedure with utmost care and consideration. You can rest assured that you're in capable hands so, why wait?
Book a consultation and start your anti-aging journey with our PRP facial treatment now.