It's not so much that people don't like aging. Rather, they don't like showing signs of aging.
While a good anti-aging skin care regimen is a good preventative measure, most people simply stop producing as much collagen and elastin as they get older. Collagen and elastin are two naturally occurring substances that make the skin appear and feel plump and elastic.
This is why loose, sagging skin is one of the most noticeable signs of aging.
Fortunately, there is another solution for this. They're called dermal fillers.
Anti-Aging Benefits of Dermal Fillers
Dermal fillers are used to make up for volume loss due to the decreased levels of collagen and elastin in the skin. As we age, we tend to lose volume in areas like the under eye hollows, cheeks, and lips, making the face look sunken and gaunt. This also accounts for what we call static wrinkles, which appear even when the face is at rest (e.g., nasolabial folds, marionette lines, etc).
The most widely used dermal fillers are typically made up of hyaluronic acid, which occurs naturally within the human body and thus lowering the risk of rejections and allergic reactions. Once injected, they plump up the skin from underneath to add or restore volume in a specific area.
Coupled with the right skin care, dermal fillers can keep the face looking fresh and youthful for much longer. 
Common Signs of Aging That Dermal Fillers Can Address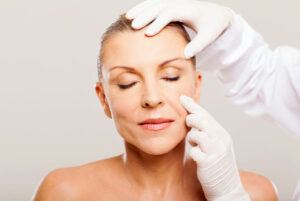 There are several kinds of dermal fillers available, and they all serve different purposes, but people typically get fillers to get address the following skin care concerns:
Thinning lips

Sunken cheeks

Undereye hollows

Static wrinkles and folds
Some patients also get dermal fillers to fill in acne scars or even to subtly contour and reshape the face through filler injections for the nose and chin. 
Recovery and Results
Most people who get dermal fillers usually notice an immediate improvement, but the full results are more noticeable within a week after the procedure.
On the other hand, the procedure itself only takes minutes (though a comprehensive consultation where your concerns, goals, and medical history are assessed to develop a customized treatment plan is usually carried out beforehand) and there's no downtime. You can go back to your daily routine right after without much trouble so long as you follow aftercare instructions (e.g., avoiding direct sun exposure, touching or massaging the injected area, etc).
As for the results, they usually last up to 3- 4 months, depending on how fast your body metabolizes the substance.
At Robert Andrews Laser & Medical Aesthetics, our highly experienced team of certified injectors led by Halle Friedman, RN, BSN, MBA, CANS use only the best techniques to deliver beautiful, natural-looking results for various patients in Colorado Springs, Colorado. We also offer a wide range of anti-aging dermal filler products, such as Voluma, Vollure, Vobella, Ultra, and Ultra Plus) Radiesse®, Restylane® (Lyft, Kyss, Refine, and Define), Bellafill®, Sculptra®, and Kybella®.
Robert Andrews is also proudly veteran-owned and thus offers a military discount. 
Schedule a consultation at our office today to get started.